100% bonus up to €200 and 30 spins. Min. deposit: €20. Max. bonus: €200
Not Allowed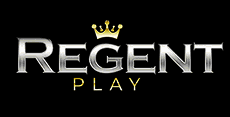 Regent Play Casino offers a Welcome Bonus of 100% up to €200
Wager Amount of 35x
Min Deposit is €20
This Bonus is Cashable

New players, aged 18+. 100 spins issued upon registration. The maximum cashout is €800. Spins are on Book of Dead.

1st Deposit: 100% bonus up to €200 and 30 spins. Min. deposit: €20. Max. bonus: €200.
2nd Deposit: 50% bonus up to €200 and 20 spins. Min. deposit: €20. Max. bonus: €200.
3rd Deposit: 50% bonus up to €200 and 20 spins. Min. deposit: €20. Max. bonus: €200.
4th Deposit: 100% bonus up to €200 and 30 spins. Min. deposit: €20. Max. bonus: €200.

Offer only applies to new players.

Unused spins expire 24hrs after being issued. Spins are on several of our best-paying games.

when you open a new account, you have the option of not receiving the Regent Play welcome bonus, by clicking 'later' at the end of the registration process. When you choose the option of receiving the Regent Play welcome bonus, you are subject to the bonus policy
Bonuses that require a deposit must have the bonus amount wagered 35 times. Winnings won with spins that require a deposit, have to be wagered 35 times your extra spins winnings unless stated otherwise.

All bonuses offered by regentplay.com will be subject to the following rules:
regentplay.com Welcome Bonus – 100% bonus on your first deposit up to €200 unless otherwise stated. This bonus only applies for deposits of €20 or higher! All you need to do is just deposit the money in your regentplay.com account and you will receive this bonus instantly!

1st Deposit example:

Deposit €60 get €60 free, play with €120.
Deposit €90 get €90 free, play with €180.
Deposit €100 get €100 free, play with €200.

2nd Deposit example:

Deposit €60 get €30 free, play with €90.
Deposit €90 get €45 free, play with €135.
Deposit €200 get €100 free, play with €300.

3rd Deposit example:

Deposit €60 get €60 free, play with €120.
Deposit €90 get €90 free, play with €180.
Deposit €100 get €100 free, play with €200.

4th Deposit example:

Deposit €60 get €60 free, play with €120.
Deposit €90 get €90 free, play with €180.
Deposit €100 get €100 free, play with €200.

The "Welcome bonus" terms & conditions:
The "Welcome bonus" is limited to one bonus per household.
The "Welcome bonus" may not be used in conjunction with any other bonus, promotion or offer.

The "Welcome bonus" must be wagered at regentplay.com within 21 days of being credited to your account. regentplay.com reserves the right, at any time, to revoke any welcome bonus not used within the allotted time period.
Please note that in the interests of fair gaming, we require you to have wagered a minimum of 35 times your welcome bonus before cashing out any winnings.

For example:
Get €60 free, wager is €2,100 to cash out.
Get €90 free, wager is €3,150 to cash out.
Get €100 free, wager is €3,500 to cash out.

Our welcome bonus is automatic. However, there are various reasons for not receiving it and you may need to personally request it. If you have not received your automatic welcome bonus after making an approved deposit, please contact our support team. This can be done online while you are playing (click the "online support" button), or by emailing support@regentplay.com . Just remember to state your username.

Free Games bonus:
All free games credited to a player's account must be used within 1 day from when the offer was granted. Unused extra spins will be removed from the account thereafter.

Free games are considered as a bonus and must be wagered before any winnings can be cashed out. The free games bonus is calculated as the total value of the winnings received through the use of the extra spins. The total value of such credit shall be subject to the wagering requirements set out below.

Any and all free games bonus(es) shall be subject to the standard bonus policy detailed hereby.
Players, who initiate a deposit in order to receive extra spins as part of a deposit offer, MUST wager their deposit amount before initiating a withdrawal. Players who withdraw their deposit without wagering will lose the extra spins earned from the deposit or if used, any winnings earned from the extra spins.

The above terms also apply to:
30 EXTRA SPINS ON YOUR FIRST DEPOSIT
20 EXTRA SPINS ON YOUR SECOND DEPOSIT
20 EXTRA SPINS ON YOUR THIRD DEPOSIT
30 EXTRA SPINS ON YOUR FOURTH DEPOSIT
For more details, please see our FAQ page.

All of regentplay.com's bonuses and winnings may only be cashed out after you have made at least one approved deposit and you have wagered at least 35 times (unless stated otherwise) of each bonus received – for example – deposit €20 and get €20 – wagering requirement is €700 to cash out.
Deposits may be withdrawn before a player's wagering requirements have been fulfilled. However, if this occurs, all bonuses and winnings will be voided/removed from the player's account. Players must contact support in order to withdraw their deposit.
Obtained affiliate info for Regent Play Casino
All other Casino Brands:
Why Should You Read a Casino Review?
A casino review is a valuable resource that provides a wealth of information to help players make informed decisions. When you peruse a review, you gain access to a comprehensive overview of a casino, including details about its promotions, game offerings, and unique features. Think of it as a guiding compass, assisting prospective players in choosing the right gaming destination.
Is This Casino the Right Fit for You?
Ultimately, the decision to play at a particular casino is a personal one. It hinges on various factors, such as your gaming preferences and whether the promotions align with your expectations. Your compatibility with the casino's offerings plays a significant role in your decision-making process.
Selecting the Perfect Starting Bonus!
Choosing the right starting bonus largely depends on your gaming objectives. Here's a breakdown of your options:
Free Bonus:
If a casino offers a free bonus, it's a smart choice for newcomers. With no deposit required, you have nothing to lose. Free bonuses can vary in value, ranging from a modest $/€5 to an impressive $/€100, providing a risk-free opportunity to explore the casino.
Free Spins:
Free spins are akin to free bonuses. Upon registering and creating a real player account, you'll receive a batch of free spins, typically ranging from 5 to a generous 100. These require no financial commitment and offer a risk-free way to enjoy the casino's slot games.
Deposit Bonus:
A deposit bonus is granted when you fund your account. While it involves a minimum deposit, the rewards can be substantial, ranging from a 50% boost to an impressive 400%. Some casinos even sweeten the deal by including free spins with your initial deposit. In summary, your choice between free bonuses, free spins, or deposit bonuses depends on your gaming style and budget. Each option has its unique appeal and advantages.
A Quick Overview:
Keep in mind that bonuses, whether free or paid, may come with coupon codes that are crucial during the signup process. Don't forget this essential step to maximize your rewards. Ultimately, your quest is to find the casino that aligns with your preferences and adheres to the regulations of your country of residence. Ensure that your chosen casino is accessible based on your geographical location. Notably, our website employs GEO targeting, instantly indicating where you can legally and responsibly enjoy your gaming experience. This feature streamlines the selection process, allowing you to focus on the casinos best suited to your needs. In conclusion, a casino review serves as your guiding light in the expansive realm of online gaming. It assists you in making informed decisions and discovering the perfect casino experience tailored to your desires and location.